Olive Garden sent a good deal through email, but you can also see it on there site here.  They are promoting for a limited time Buy one and take one special.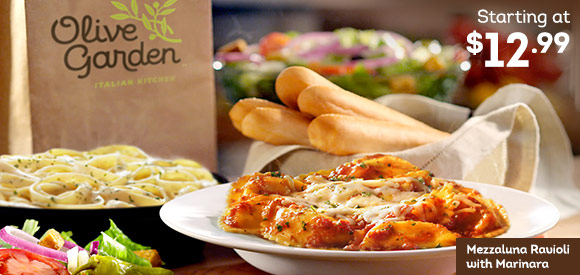 Family Meals Just Got Easier
With the kids back in school, homework and practice can get in the way of catching up and reconnecting. Join us for Buy One, Take One and get two nights of togetherness! Choose an entrée like savory Mezzaluna Ravioli with Marinara to enjoy here and a second, like creamy Fettuccine Alfredo, to take home – two delicious meals, starting at $12.99.
Limited time only. Prices may vary. Select entrées only.
This is such a great deal, we love Olive Garden and when you see deals like the one on this post really makes you think of a reason to go out and enjoy jejeje..
If you are continuing to shop for back to school deals, or planning a night out with the family, or a date night, or why not make it a movie and dinner kind of day those are just a few reasons which can be an enjoyable day and eat out while saving.
Start – Unlimited Soup or Salad / and Breadsticks
Then – Choose an Entree for dinner
Fettuccine Alfredo
Mezzaluna Ravioli with Marinara
Spaghetti with Meat Sauce
Five Cheese Ziti Al Forno
Smoked Mozzarella Chicken*
Chicken Scampi*
Baked Parmesan Shrimp*
After – Choose an Entree to go
Fettuccine Alfredo
Mezzaluna Ravioli with Marinara
Spaghetti with Meat Sauce
Five Cheese Ziti Al Forno