On February 28th I shared the following post about a wonderful Rewards Promotion from Victoria's Secret which required to spend about $26 (in stamps, envelopes and index card) but for each envelope you sent each day you were to receive at least $10 reward gift cards to use at any participating Victoria's Secret store.
I would like to share my overall experience with this promotion which ended 3/28/16 and how I spent the rewards received.
I mailed a total of 24 envelopes and received 26 Secret Reward Gift Cards
Expenses:
(Stamps) 24 x 2 stamps = 48 @ .49 each = $23.52
(Envelopes) 1 box of 40 = $1.07
(Index Cards) had what I needed
Expenses Total $24.59
Victoria's Secret Secret Rewards:
My first rewards card I received by mail was on 4/7/16 which was a week after the promotion had ended (we had till 3/28/16 to mail the envelopes) and not receiving any rewards until the deadline was very discouraging feeling I probably wasted my money but once I received my first envelope I realized it worked jejeje..
(Gift Cards) 25 x $10 each = $250
(Gift Cards) 1 x $20 each = $20
Secret Rewards Total Amount Received: $270.00
Shopping Trips using Secret Rewards Received:
My trip was really good overall, I also took advantage on our road trip visiting a few malls and luckily they were able to accept all of my secret rewards on each transaction when stores locally would only accept 1 per transaction and because of that I was able to pay less out of pocket.
Purchases $389.60
Credits/Special Discount – $376.35
Amount Paid out of Pocket $13.25
Percentage Amount Saved 96.6%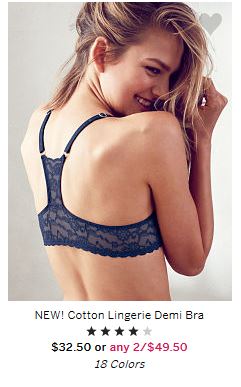 Got more than 8 Bras
Got more than 6 Panties
Got about 8 Lotions and/or Spray Mist
I like to share how our family has been able to save by taking advantage of deals and promotions like the one mentioned above.  I get very excited seeing how much we have been able to save and also excited to share how this promotion worked.