This year is almost ending and as I look back
Before mentioning my top 10 foundations I do want to share a little bit about my skin. Not all foundations will work great on every type of skin and what I may consider my top 10 for you it might not be the case. That being said, my skin has struggle with acne for many years in most cases that leads to an oily to combination skin. Which is exactly my case I have excessive oils around the T Zone and normal skin in the outer parts. Although some skin care routines and foundations have caused the outer areas to dry out while creating more oils in the T Zones. I know is very crazy and it seems complicated to even try out new foundations but that didn't stop me from searching a great foundation for my type of skin.
In addition I do want to point out that my skin is also sensitive and some products have created a negative reaction or breakouts.
Now that we got my skin type and struggles out of the way is time to share the foundations that worked for me, look great, kept the oils in tact much longer while offering a great coverage.
2017 foundation countdown
Top 10


#10 Maybelline
This foundation Is a great matte coverage, is not full coverage but is great for everyday wear. It doesn't have that soft glow or dewy finished but it helps the skin look matte throughout the day. Is a drugstore foundation and it comes with a reasonable price. I did my first impression at the beginning of 2017 and trying it out for a while is why It made it to this years top 10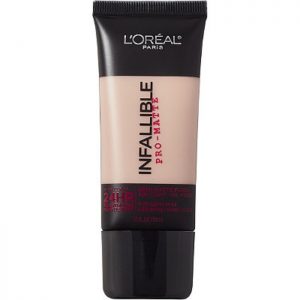 #9 L'Oréal infallible pro matte
This foundation is such a great matte coverage, it offers a medium to full coverage which is buildable without looking heavy. It doesn't have that soft glow or dewy finished but it helps the skin look matte throughout the day. Is a drugstore foundation and it comes with a reasonable price. I do wish it offered a soft glow but for a matte finished this is just a great drugstore foundation for oily skin which won't disappoint.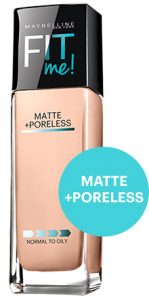 #8 Maybelline Matte Poreless
This foundation offers such a great coverage looking a bit matte but also with a nice glow. Is easy to apply since is an open bottle but I would've prefer an applicator to avoid any spills. Is great for oily acne prone and sensitive skin. This foundation I enjoy for everyday wear but I don't wear it for long period of time since the oils do show after 5 hours or so. But overall is a great product.
#7 Neutrogena Hydro Boost
This foundation could've been my top 5 or so since it does offer many great benefits. I love the coverage and it has SPF which gives you an extra coverage to keep your skin hydrated. When you apply this foundation it feel like a heavy cream almost moisturizer like. In addition the product itself is very thick and the applicator it comes doesn't help much. Overall is a nice dewy foundation with a great coverage. In regards to the oils it holds up to 5 hours before you can see my skin too glowy jejeje.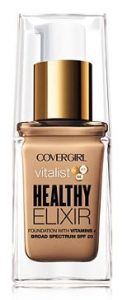 #6 Covergirl Elixir
When this foundation first came out early this year 2017 I was excited to see it was available at my drugstore. Once I tried it i was very happy with this product, not only it offers a great coverage more options of shades to choose from but it has vitamins and antioxidants. This was a foundation I enjoyed using during the summer since it also has SPF. The only concern I have is the shade oxidizes to a much darker color on me. Just like most of the foundations mentioned above it does shows the oils after 4-5 hrs of wear.

#5 No 7 Lift and Luminate
This foundation I purchased more of an accident then anything else. While in Target I wanted to try a foundation that offers some type of skin protection that is great on oily and acne prone skin. It also offers vitamins and antioxidants which is perfect since my skin is getting sun spots a lot more then before. When I tried this foundation I notice is medium coverage not full at all but it looks so natural and light on me. Comparing the covergirl Elixir vs #7 I prefer this one based on the way it looks and feel but if I want a much deeper coverage then the Covergirl Elixir would be my choice.
#4 Kat Von D Lock It
This foundation I got while in Sephora but it wasn't intentional I actually went to purchase the new Fenty by Rihanna but after 3 weeks of waiting and no luck I decided to try this foundation. I am glad I tried it for many reasons. This product offers a wonderful full coverage which is great since my skin does show many imperfections such as redness, dark spots and uneven skin. Is a matte foundation offering a more natural look with not much glow I do like that a little bit of this foundation goes a long way and is also buildable. The only thing I didn't like when using this foundation is the acne scars do show a little bit but besides that is a great foundation.
#3 Cover FX
This foundation is one I love on how well it matches my skin. Every time I apply this product I love how natural my skin looks. It offers a medium to full coverage offering a light consistency perfect to build if needed. The finish is a little bit of both giving you a matte finish with a soft dewy glow. The oils hold nicely throughout the day the only thing I notice when I wear this product is some spots might come off around the nose area. But overall great foundation.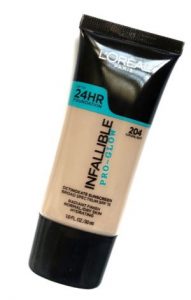 #2 L'Oréal infallible Pro Glo
This foundation is such a great buy so far I have purchased 3 in 2017. Simply because is my go to foundation. It holds nicely throughout the day and even recently on a long road trip I had it on for more then 15 hours and it held nicely. The coverage is on point has the nice glow I'm looking for while feeling light on my skin. I have tried this foundation on hot/humid and cold/winter weather and it looks good. The oils do show but mostly after 5 to 6 hrs later. Price is reasonable and no negative reaction on my sensitive skin.
#1 Huda Beauty
This foundation launched fall of this year 2017 and if I didn't try it by now I could say my number 2 foundation would have been my number 1 until this one came along. This product claims to work on all skin type when I read this I was a little skeptical since my skin is oily but sensitive and complicated. Once I tried it I saw a little bit goes a long way. The coverage is great and I love the fragrance even though my skin is sensitive but I got no negative reaction. It feels matte with a soft powder finished. Which feels matte in the skin but it looks a little radiance too. It holds nicely throughout the day and so does the oils. The only concern is it creases in between my eyebrows and is a high end foundation. But is a wonderful foundation making it my number 1 for the year 2017.
You can also watch my video as I talk about my top foundation for 2017, by clicking here
You can share your Beauty – Fashion – DIY trends (Link up)
Where I linked up