Pumpkin flavor Pancakes that sounds like an interesting and healthy concept, so I began researching about Pumpkin it states that is very low in calories, rich in fiber, minerals and vitamins.  How great is it to add a unique ingredient that is low in calories but it has healthy benefits in returned.  I know it has taken me some time to lose the weight or to simply learn about healthy eating but I love that everyday or so I can learn about new ingredients that can be added or substituted on those original recipes that didn't provide a healthier outcome.
Today, I was in the mood for my Oatmeal banana pancake but I didnt want to use the bananas I had so instead looking through my pantry I spotted a can of 100% pure Pumpkin Puree which I thought this could be perfect.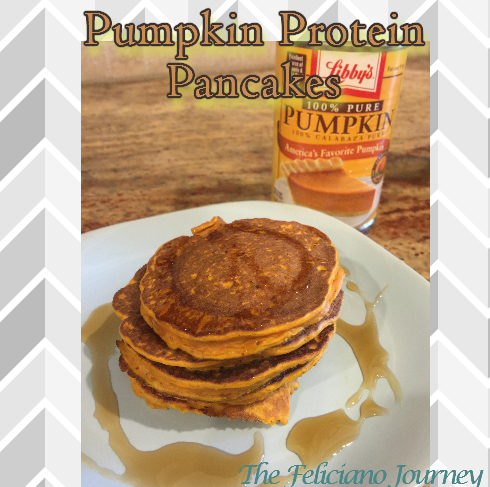 I love using Pumpkin Puree which is also one of my secret ingredients when I make flan (custard) during the holidays. Once I made this new version of pancake recipe using pumpkin I had my kids try it and they said it did taste a little bit like the flan (once it had some syrup drizzle on top of the pancakes)
For a few months now since I started my weight loss journey checking the calories, protein and vitamins is something I look for when making daily meals and this was not the exception so verifying in my account on My Fitness Pal it states under the nutrition facts for the complete recipe is 243 calories (22g of Protein, 14g of Carbs, 5g of Fiber, and 158% of Vitamin A) This is one a keeper and such a healthy and fulfilling breakfast as well..
I hope you can try this recipe… Enjoy…
Ingredients
1/4 cup quick oatmeal
1/4 cup 100% pumpkin puree
1/4 tsp baking powder
1/4 tsp cinnamon
1/2 scoop cellucor cinnamon swirl protein powder
3 tbsp almond milk
1 egg
Instructions
Place your oats in a zip-lock bag, roll on top using a rolling pin until it has a fine texture
In a bowl add remaining ingredients and mix until mixture is well combined.
In a warm skillet spray pan (I used pam) then pour your mixture in pan to your desire shape or size. Once you see the bubbles it to let you know the batter is done and ready to get flip. once that side is cooked flip your pancake. Cook the other side and remove once fully cooked. Continue with remaining batter. You may have to spray your pan a few times. This recipe makes about 4-5 pancakes but it all depends on the size. Ready to eat all it needs are your desire toppings and/or syrup.
Notes
You can replace protein powder with 1/4 cup of coconut or 1/4 cup of almond flour
https://thefelicianojourney.com/pumpkin-protein-pancakes/